At Burke Financial, we know that as a homeowner you want to be financially secure. At some point, you might find yourself considering lending options to create a level of security. The problem is that if you are experiencing hard times and have been denied by the bank, it can feel like there are no options left when you need a loan. We believe that there are solutions for every situation and we work hard to get even the most challenging applications approved. Our trusted team can provide you with short and long-term financial solutions and can guide you through our fast and easy lending process. We have helped hundreds of clients save in interest and improve their credit and we can do the same for you.
John Burke
President & CEO / Mortgage Broker
John Burke is the President & CEO of Burke Financial. A winner of multiple awards, John specializes in Debt Consolidation and Stopping Power of Sale. He uses his knowledge and expertise to help clients with even the most challenging applications get approved and get their financial life back on track. Along with helping his clients, John now uses that knowledge to train new agents to achieve their career goals with the Burke Financial Academy. When not working with clients and training agents, you can find John reading or spending time with his cat Lola!
Angelica Nefulda
Chief People Officer
Angelica first started out as a Financial Solutions Specialist with Burke Financial, utilizing her people skills to truly engage with our clients to understand their true goals when it came to their financial and home needs. Through further development of her industry knowledge and skills, not only has she become more passionate about building relationships with our clients, but with our award-winning team. Now she helps develop the Burke Financial team through building a welcoming and well rounded culture. If she is not working at her desk, you can find her hiking in the trails.
Matthew Waylett
Mortgage Broker
Matthew Waylett is the Principal Broker of Burke Financial. He is accompanied with 12 years mortgage experience in many areas of the mortgage world. He enjoys helping clients and agents using what he has learned throughout his mortgage career to help better their situations. Problem solving is one of Matthew's favorite things to do. When not working with mortgages and the mortgage team, you can find Matthew writing music for his band.
Amanda Santos
Office Manager
Amanda was first introduced to the Real Estate industry as an Admin Assistant back in 2018. At the time, she not only developed her administrative background, but a genuine passion for helping people, clients and industry partners alike. An interest in the Real Estate market began to grow on her, which then led to the Mortgage side. With such an innovative and caring personality, the team knows who they can rely on for help. To relax from busy days, she either spends time with friends and family, or goes for walks.
Stefan Li
Mortgage Agent
Stefan Li has been in the mortgage industry since 2017. He believes that every customer deserves the best care and service when purchasing or refinancing the home of their dreams. His passion as a mortgage agent is to server your mortgage needs and have what it takes to make a differnece in your next mortgage transaction.
Kelvin Cuma
Mortgage Agent
Kelvin Cuma is the Mortgage Agent at Burke Financial. Kelvin specializes in Home Equity Line of Credit and Mortgage Refinancing. The industry knowledge that he acquired through the Mortgage Agent course, and his communication, listening, and interpersonal skills make him stand out from the rest. Any Canadian who has an interest in the real estate industry; whether they want to buy their dream home, vacation property, refinance their existing mortgage, or even acquire a commercial building, Kelvin is one call away from helping you to accomplish your goals!
Robert Hughes
Senior Mortgage Underwriter
Robert is the Senior mortgage underwriter at Burke Financial. He brings over 20 years of mortgage underwriting experience working with some of the big lenders. He has experience in both prime lending and alternative lending and enjoys working with clients and lenders to provide the best solutions available. When not in the office Robert likes to travel and cheer on his beloved Toronto Maple Leafs and all other Toronto Sport teams.
Nadia Paul
Mortgage Underwriter
Nadia Paul is the Mortgage Underwriter at Burke Financial. One thing that stands out for her is the passion of her teammates to help each other. She is dedicated to providing clients with the best financial solutions and a stress-free experience. As an underwriter, her goal is to bring honesty and clarification when reviewing applications. Her focus on finding the best solutions for our clients that will help them grow in good times and provide support in difficult times. Other than spending time with her family, her favorite hobby is cooking and exploring new restaurants is the best way to relax from her busy schedule.
Malcolm Ramsay
Mortgage Broker
Malcolm Ramsay is a seasoned Mortgage Broker who specializes in debt restructuring, refinancing and purchases on both residential and commercial properties. Malcolm's place in the industry is to assist borrowers with their real estate financing needs. Whether you are self-employed, a corporation, an individual or partners who need access to funds, you can count on Malcolm to build healthy relationships and negotiate aggressive offers for your favor. Fun fact about Malcolm, he enjoys Salsa dancing and family time on his days off.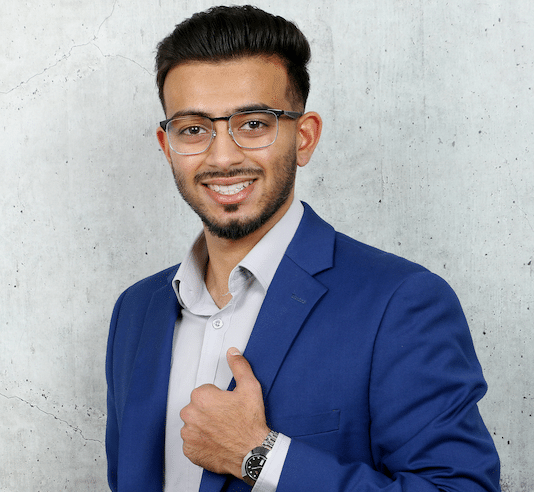 Ejaz Alidina
Mortgage Agent
Ejaz has an immense passion for problem solving and helping clients meet their short-term financial goals and ensure they have a long-term strategy. He takes deep pride in being able to provide his clients with the best solution & customer experience the marketplace can offer regardless of their financial background. In his free time, you can find Ejaz travelling, hiking or grilling a steak. . Although most importantly, he enjoys spending time with family & friends.
Imran Ilahi
Mortgage Agent
Imran has a strong passion for numbers and working with people. Imran uses financial creativity while really helping clients meet their financial needs. Imran's traditional clients are those that may not qualify for a traditional mortgage because of a number of reasons - bad or unestablished credit or self-employed. Imran gets a tremendous amount of fulfillment providing a solution where others may have failed. In his spare time, Imran enjoys spending time with his family and loves travelling and working out.
Jacob Meyer Snitman
Mortgage Agent
Jacob's best work has always come from his passion for empowering others. With his clients best interest in mind, Jacob specializes in Debt Consolidation and reducing monthly payments through Refinancing. His focus is to provide strategies that will fit his clients future goals while meeting their current needs. No matter the situation you can be sure to expect quality service with a personal touch. Outside of the office you can find Jacob hiking, crushing food challenges or cheering on the Toronto Raptors!
Mike Farrow
Mortgage Agent
Mike Farrow is the agent you want in your corner. With superior analytical skills, attention to detail and financial savvy you can guarantee that Mike will find the best solution to fit your needs. Mike's area of expertise includes Purchases, Debt Consolidation & Power of Sales but can assist with any type of financial services you require. Customer service is key to Mike's success so you can expect a great experience from start to finish. When not dedicating his focus and energy on his clients you can find Mike spending time with family or sampling foods from around the world.
Arsalan Toufighjou
Mortgage Agent
Arsalan is a professional mortgage adviser that specializes in successfully helping individuals, even with bruised credit history. He is equipped with the latest tools and knowledge to help all of his clients achieve good credit standing, build wealth and save thousands of dollars. Arsalan personally invests himself in each of his client's well being and strives to get them into the best financial position now and for the future. When he is not helping others reach their financing goals, you'll find him enjoying time with his 3 kids.
Birinder Singh
Mortgage Agent
Birinder Singh is an aspiring mortgage agent who is passionate about solving problems and strongly cares about his client's financial goals. Birinder specializes in alternative lending and uses his expertise to strategically tailor solutions for even the most challenging files. He takes his time to understand the client's needs thoroughly, to ensure the highest quality and efficient service is provided. Outside of helping client's , Birinder enjoys going for hikes in nature, reading books, and playing sports.
Marie Sanon
Mortgage Agent
Working for you not for the Banks Marie believes that every customer deserves the best care and service when purchasing or refinancing the home of their dreams. Marie here to serve your mortgage needs and has what it takes to make a difference in your next transaction. She can place all types of mortgages her specialities are : Heloc refinances , equity takouts,second mortgage, private mortgage, debt consolidations and mortgages for self employed. Marie has the expertise to get the Right Mortgages for your immediate and future needs. She works for you not for the banks and provides unbiased guidance in your mortgage decision. 0Marie looks forward to helping you achieve your financial and homeownership goals!
Junyan (June) Ma
Mortgage Agent
Junyan is an energetic and client-focused Mortgage Agent. With many years of accounting and personal tax filing experience, she specializes in setting real estate strategies based on clients' needs from tax and financial perspectives and leveraging clients' assets by offering suitable lending options to achieve wealth maximization in real estate perspectives. Junyan sees her client settling desired properties and securing long-term financial stability as her main goal. Outside of helping clients, she likes to discover new restaurants in the city!
Rufat Muslumov
Mortgage Agent
Rufat is a professional who has spent over 10 years in the customer service industry. He believes in providing quality services to help with every question and any needs his clients have. He provides his clients with an experience they won't get with anyone else. Rufat brings an extensive background working with different people from numerous customer service industries. From serving in the Canadian Armed Forces to working in the Hospitality industry, Rufat is a professional you can count on.
Our Team
We are a Better Business Bureau accredited 5-star rated mortgage brokerage. Thousands of Canadians trust us with their mortgages and borrowing because we help them make informed decisions and save money.

A 5-Star Customer
Experience, Every
Step of the Way

Industry Leading
Knowledge &
Expertise

An Entire
Award-Winning
Team, Working For
You
We Care.
We Personalize.
We Deliver.
At Burke Financial, we treat each interaction with our clients as a chance to change their borrowing experience to a positive one. Ultimately, our goal is to help homeowner's make informed decisions and save money. To do this, we look at our client's main priorities and personalize a plan to shape the optimal payment amounts, term length, prepayment privileges, interest rates, and much more. We negotiate and shop each application to multiple lenders to get the most competitive rates and terms and our fast and easy approval process makes it that much easier to get back on track financially. We work with homeowners all over the province of Ontario. Discover the Burke Financial difference today.
Communities We Serve
We provide service throughout all of Ontario with a focus on the following cities: