Mortgage
Refinancing Ontario
Simply put...
Mortgage refinancing offers homeowners the chance to take advantage of their home equity and use that capital to make the right financial choices for their families.
Burke Financial is an award-winning Mortgage Broker committed to helping homeowners use their home's equity to its full potential. We're here to help you decide if refinancing your home mortgage is the right decision for you and will work diligently to ensure that you achieve the best possible rate for your refinancing needs.
Our refinancing solutions are available across Ontario. Learn more about your mortgage refinancing options today.
Mortgage Refinance Calculator
The Benefits of a Mortgage Refinance with Burke Financial
Refinancing a mortgage in Ontario involves replacing your existing loan with a revised one, either with the same or a different lender. Homeowners often enquire about refinancing because of the potential benefits they can reap. Some choose to refinance their home mortgage to take advantage of low-interest rates, while others prioritize accessing home equity quickly. Credit cards and high-interest debts can have adverse effects on your budget and credit score, so it's a good idea to reach out to a home mortgage refinance company to help you consolidate those outstanding payments.
Refinancing can allow you to access up to 85% of your home's value, discounting any outstanding mortgages. You can use equity to renovate your home, invest in stocks, buy a new car, purchase additional property and more. As a homeowner, you have the freedom to decide how to use this loan to meet your financial goals. Refinancing a home can seem overwhelming, and we're here to make sure it's as smooth and efficient as it can be. Our industry-leading team has years of experience guiding homeowners through the process of rates and refinancing.
Reduce Monthly Payments
By using a Mortgage Refinance to get a lower interest rate or consolidate multiple mortgages into one, you can reduce your monthly payments. In many situations, we have helped our clients reduce their monthly payments by up 75%! Helping our clients not only be able to better afford their obligations, but also be able to put money aside for what matters most!
Take Advantage of Current Rates
As interest rates change, many of our clients will refinance to take advantage of those rates. For example, as rates rise, our clients might refinance their existing variable rate to a safer, longer term fixed rate. On the other hand, as rates drop, they might refinance their higher fixed rate to take advantage of lower rates that are being offered by the lenders at that time.

Consolidate Debts
If you are drowning in debt and have multiple creditors calling, a Mortgage Refinance allows you to combine your current mortgage and outstanding debts into one low monthly payment. It's a sensible solution to managing debt that will not only improve your financial situation, but also your overall health and wellbeing by reducing your stress and anxiety levels.

Rebuild Credit
Having bruised credit can be detrimental to most people trying to improve their financial situation. For most homeowners, the home equity they have built up over the years will mean they can obtain a Mortgage Refinance to help polish up their credit score and perhaps secure larger loans in the future.
Cash for Renovations
Whether you have a project that you want to complete or are worried about having funds available to finance an emergency home repair like a leaky roof or cracked foundation, using a Mortgage Refinance to access the equity you have built up over time give you the cash you need to complete those renovations and get access to funds for emergency repairs.
Cash for Investments
When a great investment opportunity arises, it's important to be ready to act. Accessing the built up equity in your home for investments such as buying a rental property or a second home is a great option. You can also use that equity for things like business investments, or whatever other great opportunities might present themselves.
Mortgage Refinancing For All Situations
If you're considering refinancing your mortgage, no matter where you are in the process, we have the resources to help you make an informed decision.
Burke Financial knows refinancing is about more than interest rates and payment plans. We're your partner in this critical decision. Our brokers are committed to providing you with all of the information you need to make an informed choice about your financial future.
We offer refinancing solutions across Ontario. Consider how you can benefit from mortgage refinancing.
We Offer A Range of Solutions For All Your Second Mortgages Needs!
A home equity line of credit or HELOC is a line of credit taken out by a borrower to access the equity in their home. The amount you can access is based on the amount of available equity in your home, which is determined by subtracting the appraised value of your home relative to any existing mortgages. The more equity you have available, the larger the line of credit amount you can qualify for. Whatever the reason you have is for needing to access your equity, HELOC loans are a great solution that allow you to access equity with flexible terms and payment options.
Why Choose Burke Financial
At Burke Financial, we specialize in communicating with lenders on behalf of our clients' needs to get the lowest possible interest rates and establish a successful payment plan.
Our mortgage brokers are available on-hand to improve the borrowing experience of homeowners throughout Ontario. As a customer service leader, we're committed to creating a positive and seamless borrowing experience for all of our clients.
Contact us today to learn more about your options.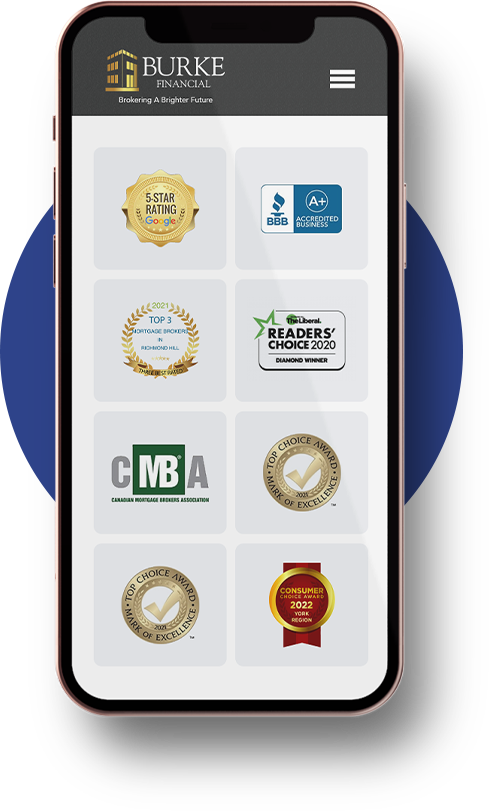 Boost Credit & Save More
Credit repair within 60 days

Once your loan is funded and debts are paid, you will see an increase in your credit rating within 2 months.

Public records to fall off

Your paid collection items, judgements, and consumer proposals will also begin to update.

Qualify for better products

As your overall borrower profile improves, you will quality for better products and save more.
+$
0
Millions in Loans Funded
+$
0
Millions Dollars Saved for Clients
+
0
Happy and Satisfied Customers
Communities We Serve
We provide service throughout all of Ontario with a focus on the following cities: