Debt Consolidation
Mortgages Ontario
Simply put...
Burke Financial is an award-winning Mortgage Broker in Ontario committed to helping homeowners consolidate their finances and put their best financial foot forward.
If you've accumulated debts from multiple sources, it can become increasingly challenging to stay ahead of those monthly payments. Homeowners across Ontario have their fair share of expenses to keep track of, and if you've found yourself struggling to keep up, know you're not alone.We're here to help hard-working households across Ontario find the debt relief they need when they need it. Debt consolidation mortgage loans could be just what you need to take that next step forward.
Our industry-leading team works with clients from Hamilton to Kitchener and everywhere in between. As a top-rated firm accredited by the Better Business Bureau, we've already helped thousands of Canadians make informed decisions and save money through debt relief strategies like consolidation loans.
If you are struggling to manage various debts from multiple sources or having issues with your financial institution, start making those small steps towards a great financial future. Contact us today to learn more about our debt consolidation and mortgage solutions. Our consolidation services are available across Ontario.
Debt Savings Calculator
Total amount of debt
We take the time to really understand what our clients are truly looking to accomplish with their application and what their main priorities are.
Current
Financial Situation
Total Amount of Debt $0
Monthly Payment* $0
Annualy Payments $0
New Burke
Financial Solution
Total Amount of Debt $0
Monthly Payment $0
Annualy Payments $0
*To maintain your credit score and pay down principal, you must typically make a minimum monthly payment of 3% of the balance for most credit cards.
The Benefits of a Debt Consolidation with Burke Financial
Accumulating debt is easier than most people think, especially if you're living in a big city, where the cost of living continues to rise. All it takes is one missed payment to incur late fees, interest charges, and other penalties.
Debt consolidation refers to the process of reorganizing and refinancing your current debts, so they are more manageable. We know that few things are more stressful than the financial hardship created by high-interest credit card debt, so we make the process easy. We develop a realistic solution tailored specifically to you to establish a plan of action.
Finding your way out of the debt cycle can seem like an impossible feat, but it doesn't have to be. Whether or not you have bad credit, maxed-out credit cards, or credit other issues that have put a damper on your financial standing, our debt consolidation experts are available to help across Ontario. Our extensive network and growing resources have helped countless households redefine how they approach their budgets so that they can make the most of their capital.

Consolidate Debts
If you are drowning in debt and have multiple creditors calling, a Debt Consolidation allows you to consolidate your debt into a single monthly payment. It's a sensible solution to managing debt that will not only improve your financial situation, but also your overall health and wellbeing by reducing your stress and anxiety levels.
Rebuild Credit
Having bruised credit can be detrimental to most people trying to improve their financial situation. For most homeowners, the home equity they have built up over the years will mean they can obtain a Debt Consolidation to help polish up their credit score and perhaps secure larger loans in the future.
Reduce Stress
We have worked with hundreds of clients behind on bills and facing collection calls, so we understand how extremely stressful the situation can be. Our team knows that time is of the essence in a situation like this, and work hard to get this completed as quickly as possible so you can stop worrying about losing your home and get back to normal life.

Reduce Monthly Payments
By using a Debt Consolidation to consolidate higher interest debts you can reduce your monthly payments. In many situations, we have helped our clients reduce their monthly payments by up to 75%! Helping our clients not only be able to better afford their obligations, but also be able to put money aside for what matters most!
Flexible Payment Structure
No matter what your monthly household income is, a Debt Consolidation can be structured to ensure your monthly obligations are not too much to handle. Even client's who have little or no income can have their payments structured to match what they can afford. In many cases, we can even prepay the entire mortgage upfront, giving you no monthly payments during the term!
Flexible Repayment Terms
Having flexible repayment terms is great because it allows you to have the terms structured so that they are the most favourable for you. For example, it might be best to have a term that is fully open to repayment at any time without penalty. Or you might plan to sell your home in 6 months, so we can structure the maturity to align with that, saving you money.
Debt Consolidation Mortgage Loans For All Situations
Once you get a handle on your debt with a consolidation mortgage loan, you'll find it easier to manage your household's monthly budget. After all, when you have a handle on your finances, it frees up your time and energy to invest in the other areas of your life.
By taking out a debt consolidation loan, Ontario residents who may be struggling financially will have the tools to simplify their lives by having all their debt in one place. With your consolidation loan terms outlined and a manageable monthly payment schedule in place, your regular payments will be fixed and easier to add to your budget. Say goodbye to fluctuating credit card bills and hello to a reliable monthly payment. With an exact time frame in place, the path to a solid credit score and sound financial health will be much easier to follow.
The interest rates on mortgage-based consolidation loans are typically much lower than what you get with a line of credit or payday loan. This is why so many people across Ontario choose to work with Burke Financial. We offer mortgage solutions across Ontario.
Consider the many ways our consolidation loan experts can help you achieve financial independence.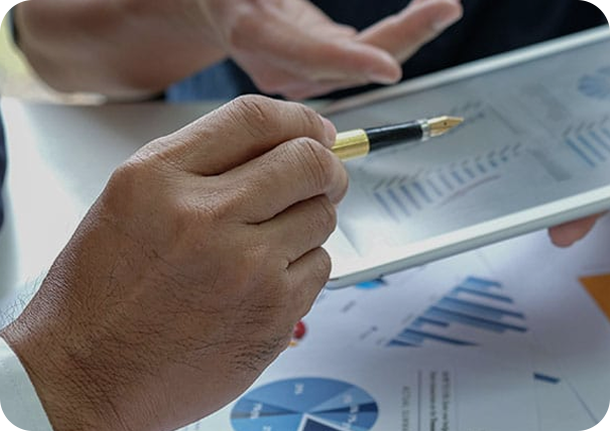 Why Choose Burke Financial
Consolidating your credit card debts can put your household on the path to a healthy financial situation, and our trusted team is here to help you every step of the way.
If you are in a position where you can't resolve outstanding monthly balances, those high interest rates could quickly lead to an out-of-control debt situation. The good news is that there are resources at your disposal that can help. If you can act quickly and tackle the problem head-on, you have a greater chance of sparing yourself this stressful and potentially lengthy financial struggle. Since the interest rates on debt consolidation mortgage loans are much lower than your average credit card rates, debt relief can be achieved faster than you might expect.
When you partner with Burke Financial, one of our experienced team members will walk you through all the credit options and help you find the solution that will work best for you, regardless of your financial situation.
We believe every household in Ontario deserves to be debt-free, which is why our consolidation services are available across Ontario. Regardless of your location, you are a priority. All of the assistance we provide is objective and completely personalized to your financial situation and your goals. With our extensive network and resources, we help our clients lower their monthly payments, reduce their total interest, and give them peace of mind knowing they're on the right track.
We go the extra mile for our clients, and it shows. In the past, we've physically sent our employees to pick up paperwork from a nearby client who was having trouble figuring out how to use a fax machine.In other cases, we were happy to stay on the phone for hours while we walked a client through the process, explaining how to use government websites. Ultimately, we fit our schedule to meet your requests.
We pride ourselves on industry-leading turnaround times, as we can put money in your pocket in as little as 48 hours. We'll match your unique expectations and ensure you're in the position to become debt-free.
Contact us today to help you find your ideal debt consolidation solution.
+$
0
Millions in Loans Funded
+$
0
Millions Dollars Saved for Clients
+
0
Happy and Satisfied Customers
Communities We Serve
We provide service throughout all of Ontario with a focus on the following cities: